News
Join us at Virtual HPN Expo 2020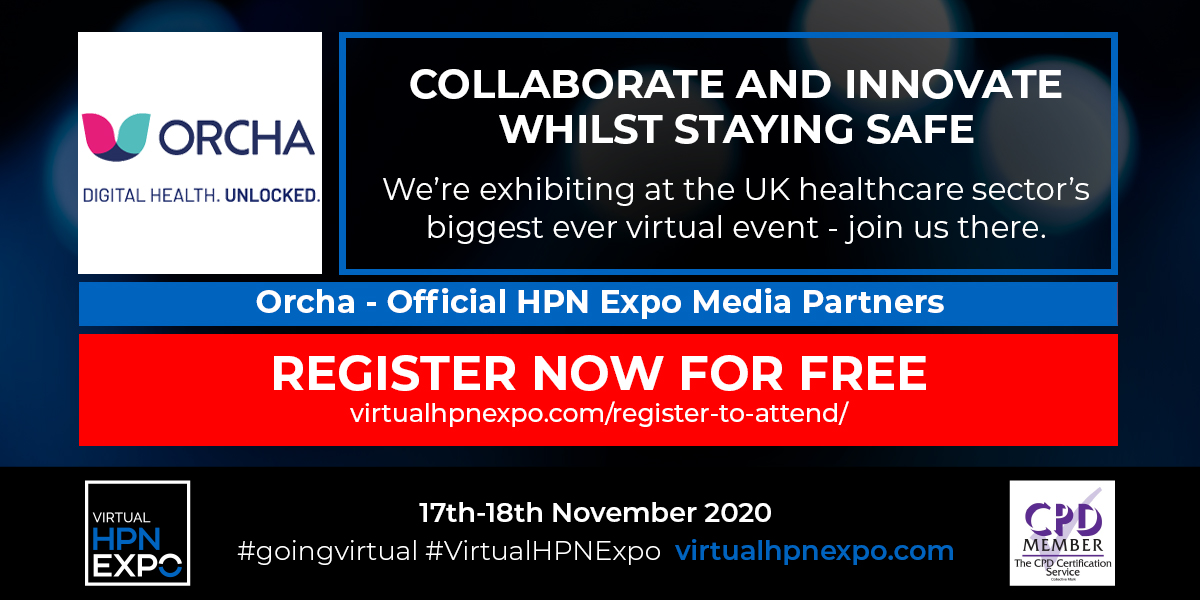 Virtual HPN Expo is a unique opportunity in 2020 to collaborate and innovate with senior NHS leaders and transformational suppliers to the healthcare sector. From 17th-18th November, Virtual HPN Expo will host over 55 hours of thought-leadership and best practice sharing, the majority of which is CPD-accredited.
We are delighted to be a media partner for Virtual HPN Expo 2020. Register below to join us at the event, where we will be exhibiting and speaking. We'd love to see you there!
Highlights include:
Keynote discussions, hosted by event chairman Niall Dickson CBE, Former Chief Executive of NHS Confederation, with Lord David Prior, Chair of NHS England and The Rt Honourable Jeremy Hunt MP, Chair of the Health and Social Care Committee. They'll be discussing the challenges of managing a pandemic and the future of healthcare.
50+ senior NHS speakers engaging in panel discussions, sharing case studies and best practice.
20+ transformational suppliers showcasing innovative solutions for the next normal in healthcare across workforce and wellbeing, AI and intelligent automation, telehealth and virtual care, and innovation and improvement.
Download the full agenda here.
Reflecting on the event, Niall Dickson CBE, had this to say:
"It's an incredibly difficult time for everyone on the health service front line. There are fewer opportunities for face-to-face contact than ever, yet it is so important to share ideas, views, innovation and understand each other's challenges."

"This event provides an opportunity for leaders to reflect with each other and engage with the industry. If we are to emerge stronger from this terrible period it will be because we have built relationships and devised new ways of integrating services, of collaborating and of delivering care. It is through these partnerships that a stronger more sustainable NHS will emerge."
At the busiest and most challenging time for the NHS in recent memory, attendance of Virtual HPN Expo is completely flexible – you can dip in and out of sessions to suit your schedule.
Delegate passes are currently free for NHS employees. Register for yours by visiting the Virtual HPN Expo website: https://virtualhpnexpo.com/register-to-attend/
Founded by NHS clinicians, ORCHA is the world's leading digital health evaluation and distribution organisation. We provide services to national health bodies across three continents, including the NHS in 50% of UK regions, delivering national accreditation frameworks, bespoke Digital Health Libraries, and professional recommendation tools, specific to the needs of our clients. ORCHA's unique Review Engine assesses digital health solutions against more than 300 measures across Clinical/Professional Assurance, Data & Privacy, and Usability & Accessibility, plus additional criteria depending on needs.
Discover how our services, including Reviews, Digital Health Libraries, and market intelligence reports, can work for your specific needs.
Your Health and Care App Library
Search ORCHA's App Library, featuring thousands of independent app reviews across a broad spectrum of health conditions. Every app is evaluated against more than 300 measures across Clinical/Professional Assurance, Data & Privacy, and Usability & Accessibility, making it easy for you to find the best apps for your needs.