Learn from our three main themes
News
Blood Pressure Apps Rating Map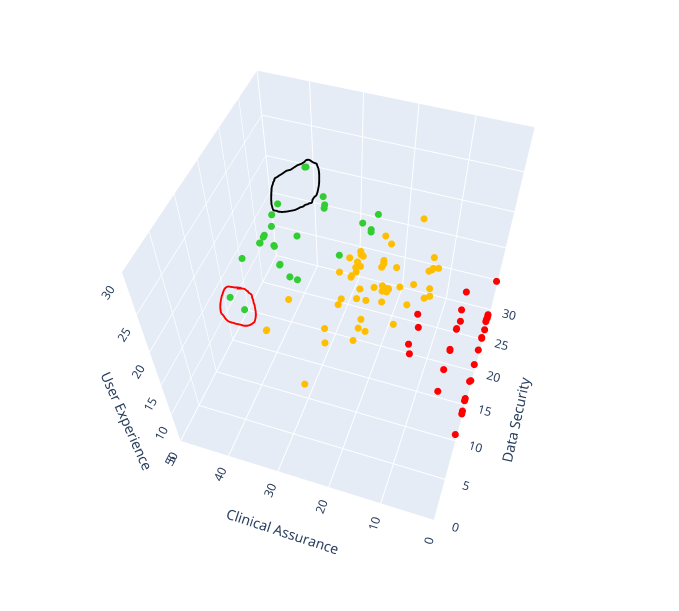 According to Public Health England, approximately 1 in 4 adults worldwide have high blood pressure, and it is projected to affect more than 1.5 billion people around the world by 2025. High blood pressure can lead to stroke, coronary heart disease, vascular dementia and chronic kidney disease, and so places considerable strain on the NHS. As such, heart and blood vessels apps are becoming increasingly necessary in managing health issues such as high blood pressure.
The problem remains, however, that many blood pressure apps are untested, unregulated and potentially dangerous.
In order to address this issue, we've reviewed more than 120 of the market's most downloaded heart and blood vessels apps, looking at 226 criteria across three main components: Data Security (DS), Clinical Assurance (CA) and User Experience (UX). Analysing this data allows us to identify the strengths and weaknesses of the sector and spot the stand-out apps.
To reveal the results of our analysis, we've plotted the apps' data in a 3D chart (above).
This reveals 3 main themes:
1.       This is a market of low quality apps, with just over 75% of the Apps not meeting our quality threshold of 65% and having areas that need addressing. Roughly 25% of these scored less than 45%, which is slightly better than the figures from the Pregnancy Report last month.
2.       There were two stand out Apps (circled in black) that both achieved the high score of 88% – FibriCheck and Lincus Companion. Both the iOS and Android versions of Lincus Companion scored 88% which shows great consistencies across platforms. The FibriCheck iOS App scored 88% whereas the Android version scored just slightly lower at 86% due to a lower sub-score in Data Security.
3.      As mentioned in other Apps Rating Reports, Clinical Assurance is not enough for a well-rounded app. The two outlying Apps (circled in red) both scored well overall, but missed out on edging into the top group due to poorer scores in the Data Security and User Experience sections.
To explore our 3D chart, click here.
Or to read our heart/blood vessels app reviews, follow this link.
Founded by NHS clinicians, ORCHA is the world's leading digital health evaluation and distribution organisation. We provide services to national health bodies across three continents, including the NHS in 50% of UK regions, delivering national accreditation frameworks, bespoke Digital Health Libraries, and professional recommendation tools, specific to the needs of our clients. ORCHA's unique Review Engine assesses digital health solutions against more than 300 measures across Clinical/Professional Assurance, Data & Privacy, and Usability & Accessibility, plus additional criteria depending on needs.
Discover how our services, including Reviews, Digital Health Libraries, and market intelligence reports, can work for your specific needs.
Your Health and Care App Library
Search ORCHA's App Library, featuring thousands of independent app reviews across a broad spectrum of health conditions. Every app is evaluated against more than 300 measures across Clinical/Professional Assurance, Data & Privacy, and Usability & Accessibility, making it easy for you to find the best apps for your needs.