Results revealed in a 3D map
News
Femtech Apps Rating Map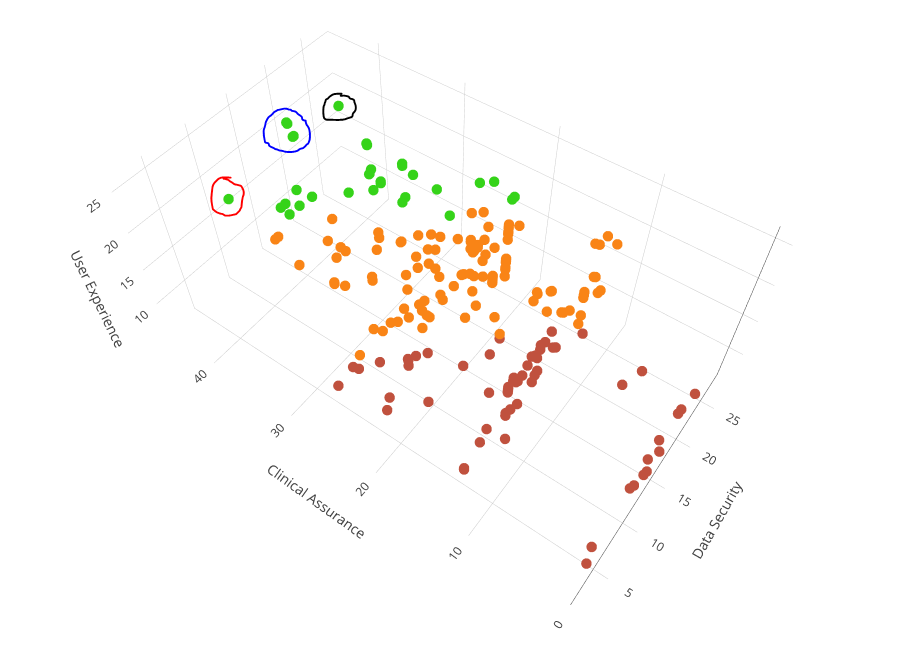 There's been a huge rise in the number of apps that address women's health. From period-tracking apps, pregnancy and nursing care, women's sexual wellness to reproductive system health care, it's the most searched for category on Google and is attracting the attention of Venture Capital investment.
We've reviewed more than 200 of the market's most downloaded apps, looking at 160 criteria across three main components: Data Security (DS), Clinical Assurance (CA) and User Experience (UX), to spot the strengths and weaknesses of the sector and spot the stand-out apps.
To reveal the results, we've plotted their results in a 3D chart.
This reveals 3 main themes:
1. This is a market of low quality apps. More than 85% of the apps do not meet our quality threshold of 65% and have areas that need addressing, primarily around Clinical Assurance. Roughly one third of these scored less than 45%. This is particularly worrying given the high consumer demand and lack of regulation in app stores.
2. There are three stand-out apps. There are three outlying apps that scored well above our quality threshold. These include Natural Cycles – Birth Control, Baby Buddy, and Mum & Baby, which all scored well across all three dimensions (Circled in Black and Blue). In fact, Mum & Baby scored over 85%, which puts them in a select group of only 42 out of 4,213 apps that have ever done so.
3. Clinical assurance is not enough for a well-rounded app. The outlier app (Circled in Red) offers patients a real benefit whilst pregnant, and it deservedly achieves one of the highest scores for Clinical Assurance (45/50). However, it scores 10% lower than the top apps, as it scores low in Data Security and User Experience.
To explore our 3D chart, click here.
Or to read our pregnancy app reviews, follow this link.
For more information about some of the top scoring pregnancy apps on our App Library and how these meet user demands, read our blog post here.
Founded by NHS clinicians, ORCHA is the world's leading digital health evaluation and distribution organisation. We provide services to national health bodies across three continents, including the NHS in 50% of UK regions, delivering national accreditation frameworks, bespoke Digital Health Libraries, and professional recommendation tools, specific to the needs of our clients. ORCHA's unique Review Engine assesses digital health solutions against more than 300 measures across Clinical/Professional Assurance, Data & Privacy, and Usability & Accessibility, plus additional criteria depending on needs.
Discover how our services, including Reviews, Digital Health Libraries, and market intelligence reports, can work for your specific needs.
Your Health and Care App Library
Search ORCHA's App Library, featuring thousands of independent app reviews across a broad spectrum of health conditions. Every app is evaluated against more than 300 measures across Clinical/Professional Assurance, Data & Privacy, and Usability & Accessibility, making it easy for you to find the best apps for your needs.