News
HIMSS 22, Orlando: ORCHA discusses how to deliver safe digital health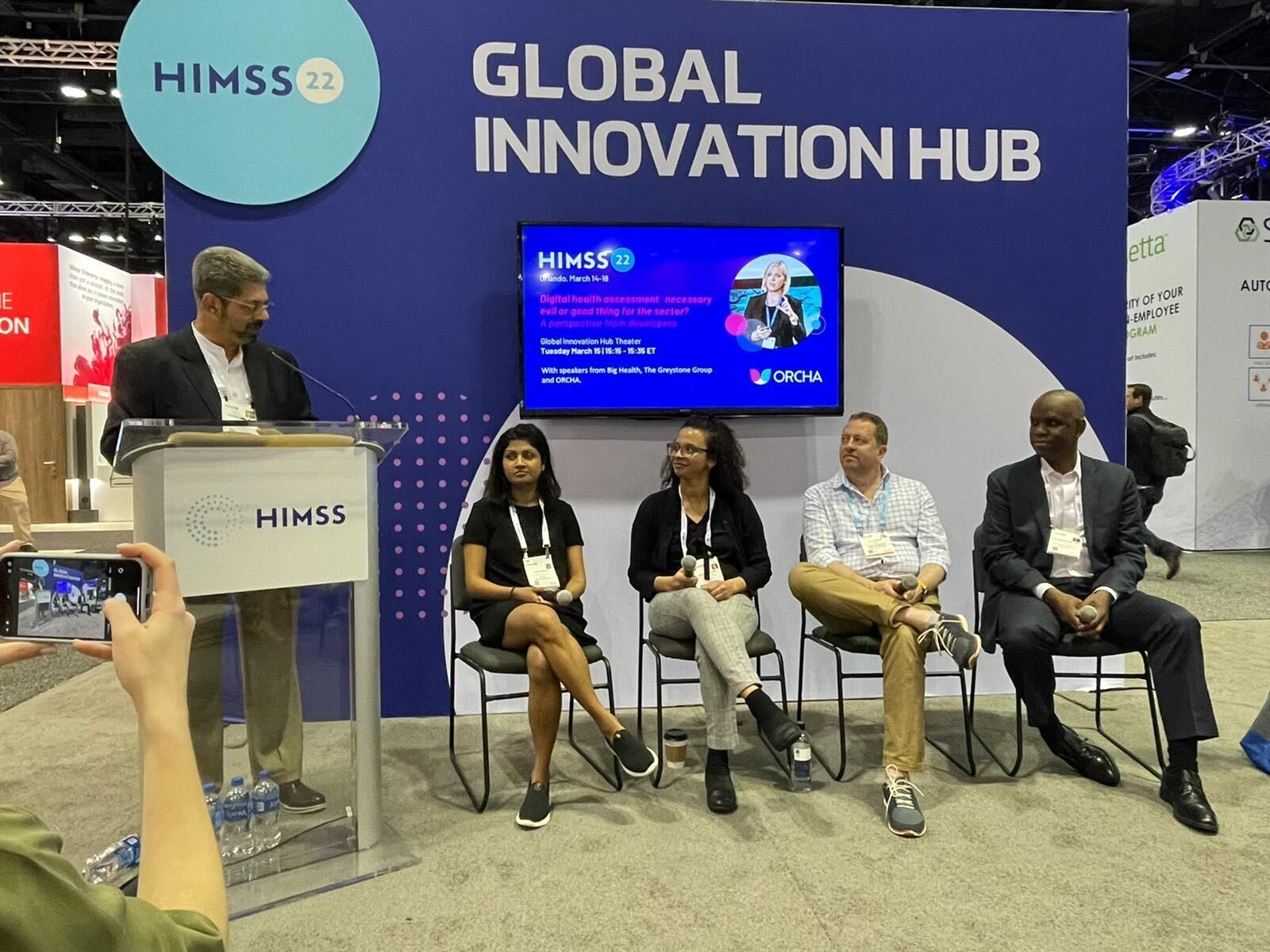 ORCHA is delighted to have been part of HIMSS 22, which took place in Orlando from 14-18 March 2022. The event brought members of the healthcare ecosystem together from all over the world to consider how people, technology and best practices can advance healthcare.
ORCHA's stand was on the UK DIT's stand in the Global Innovation Hub, and attending from ORCHA were: Liz Ashall-Payne, Founding CEO; Tim Andrews, Co-Founder and COO; Lloyd Humphreys, Managing Director; George Kowalski, Business Development Director; Matt Clearly, Inside Sales Executive; Devika Wood, SVP of New Markets; and Jon Warner, US Advisory Board Chair.
On Tuesday 15, we hosted three panel discussions in the Global Innovation Hub Theatre, discussing digital health assessments and how to deliver safe digital health. Topics included:
Digital health assessment: necessary evil or good thing for the sector?
Scaling the adoption of digital health: identifying the potential pitfalls
Supporting people to use digital health: how associations can help their members
Delivering safe digital health.
Keep an eye on our website for the next events where you can hear ORCHA present and ask us any digital health questions! In the meantime, if you have any immediate questions or would like to know more about our work, please get in touch by emailing hello@orchahealth.com
Founded by NHS clinicians, ORCHA is the world's leading digital health evaluation and distribution organisation. We provide services to national health bodies across three continents, including the NHS in 50% of UK regions, delivering national accreditation frameworks, bespoke Digital Health Libraries, and professional recommendation tools, specific to the needs of our clients. ORCHA's unique Review Engine assesses digital health solutions against more than 350 measures across Clinical/Professional Assurance, Data & Privacy, and Usability & Accessibility, plus additional criteria depending on needs.
Oops! We could not locate your form.