News
Landmark study: health apps help diabetes patients reduce blood sugar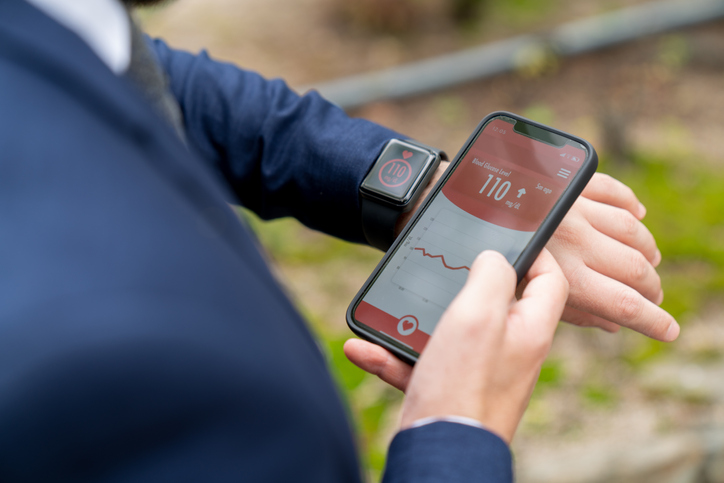 Researchers from the Organization for the Review of Care and Health Apps (ORCHA) have found that blood glucose levels amongst those with Type 2 Diabetes can be reduced by up to 1.1% when patients use digital health tools alongside their standard medication.
Patients with Type 1 Diabetes can reduce their blood sugar (HbA1c) by up to 0.5%.
The reductions in blood sugar levels are significant because every 0.1% decrease reduces the risk of retinal damage, kidney failure, ulceration, and limb amputation. 
Additionally, patients with Type 1 Diabetes experienced a 37% reduction in microvascular complications (which can lead to blindness) having reduced their blood sugar by just 1%.
Eleven percent of people in the US now have Diabetes and 38% have pre-Diabetes. Health apps can help patients track activity, food intake, and medication, while giving peer support and remotely monitoring their data, aiding their physicians.
ORCHA's researchers examined 25 global, independent randomized trials of diabetes control. The study, published in Frontiers in Clinical Diabetes and Healthcare, reported significant results, especially for the US.
Nearly half the patients involved were American (1,559 out of 3,360 patients).

A Los Angeles study

 found that where oral therapies were failing those with uncontrolled Type 2 Diabetes, digital health apps helped medication adherence by more than 80%.

A North Carolina study

 among veterans concluded that digital health apps could be a practical 'real world' way of reducing the burden of poor diabetes control.
Dr. Leigh, who is himself a Type 1 Diabetic, said:
"This is a commanding result which we hope healthcare payers and providers will take note of. With over ten percent of the population having Diabetes, adequate management is vital. Some of the consequences of this condition take time to evolve and are difficult to remedy. This study shows that health apps can be an effective part of this process, complementing other forms of care."
The study is the first systematic review of these clinical trials. It aimed to establish whether health apps could assist with Hba1c levels. It found that in 21 out of the 25 trials, patients using digital health tools to supplement their care achieved better HbA1c results.
In 20 out of the 25 trials, there were additional reported reductions in cholesterol levels, blood pressure, and Body Mass Index.
Amongst those with Type 2 Diabetes, the improvements in blood sugar levels were similar to the benefits patients receive when using Metformin, a commonly used medicine to lower blood sugar levels which is often the first line of treatment for the condition.
Although researchers expect a drop-out rate of 40% when patients trial digital tools, there were lower drop-out rates when people with diabetes used them, at 20%.
In the trials, the average duration of diabetes for those using digital health was 12.49 years and the average age was 52. The researchers were surprised that this group, seemingly well entrenched in their self-management habits, was so open to trying new approaches, showing there is a role for digital health in those with well-established diabetes.
Dietician and clinical lead for diabetes at ORCHA, Susan Gallagher, said:
"The improvement demonstrated in the research paper is clinically valuable and a comparison could be made to the impact of diabetes medication. It is important that digital solutions are evidence-based, proving they can add value to a person's care. This paper has shown the improvements that can be realized.
"Many apps exist but not all have the same standards or ability to show a positive impact. Individuals and clinicians should consider a trusted app when selecting one to support their care needs".
Diabetes digital health apps which passed the stringent ORCHA health app review process (the Digital Health Assessment Framework) and are therefore recommended as trustworthy: 
OneTouch Reveal® works alongside the OneTouch Verio Reflect™ meter, and the OneTouch Flex® meters to help manage Type 1, Type 2, and gestational diabetes. 

ORCHA score 72%

Health2Sync App allows you to visualize your blood glucose, blood pressure, weight readings, and daily activities to help you adjust and take full control of your health. 

ORCHA score 75%