Huge congratulations to our amazing team for all their hard work
News
ORCHA Highly Commended in Business Culture Awards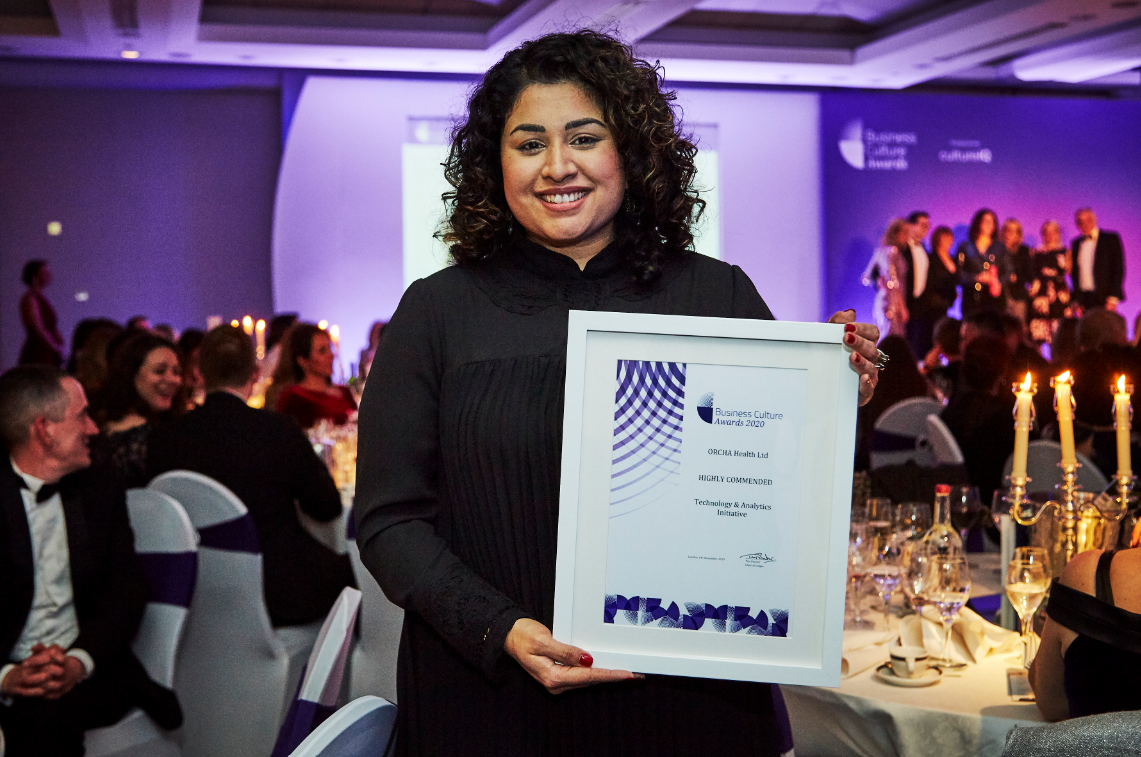 The Business Culture Awards recognise those companies who have taken notable steps to creating a stand-out business culture. This year, ORCHA is delighted to have been Highly Commended in the Technology and Analytics category. Huge congratulations to our amazing Team for all their hard work!
The judging panel praised ORCHA's 4 core values: fun, curiosity, collaboration and trust, and stated that our "mission to drive uptake of great digital health solutions is admirable."
Further feedback from the judges included:
"An exciting and highly innovative set of solutions to ensure health apps can be assessed for effectiveness and to help apps be launched/scaled. This is also a fantastic example of collaboration alongside health providers and agencies. It show some impressive results and there's significant amounts of data that suggests there are many more areas where ORCHA can deploy its expertise – an excellent entry.
It is great that, to date, condition-specific ORCHA portals have been replicated in four therapeutic areas: diabetes, COPD, mental health, and children's health. Their research has highlighted how TECS could provide nationwide benefits in the future."
ORCHA strives to make safe and trusted digital health easily accessible to patients, health and care professionals and populations across the globe. It's great to have our work in this area recognised, and achieving Highly Commended in the Business Culture Awards will encourage our Team to continue increasing the uptake of great digital health solutions with even more vigour and enthusiasm.
Founded by NHS clinicians, ORCHA is the world's leading digital health evaluation and distribution organisation. We provide services to national health bodies across three continents, including the NHS in 50% of UK regions, delivering national accreditation frameworks, bespoke Digital Health Libraries, and professional recommendation tools, specific to the needs of our clients. ORCHA's unique Review Engine assesses digital health solutions against more than 300 measures across Clinical/Professional Assurance, Data & Privacy, and Usability & Accessibility, plus additional criteria depending on needs.
Discover how our services, including Reviews, Digital Health Libraries, and market intelligence reports, can work for your specific needs.
Your Health and Care App Library
Search ORCHA's App Library, featuring thousands of independent app reviews across a broad spectrum of health conditions. Every app is evaluated against more than 300 measures across Clinical/Professional Assurance, Data & Privacy, and Usability & Accessibility, making it easy for you to find the best apps for your needs.